News Surrounding the Blue Turf 8-14
"If the quarterback's there and you see him, you just want to hit him," McClellin said.
Shea McClellin is a athletic beast! something we in Bronco Nation have known for years now.
Poster download of the day, click image below.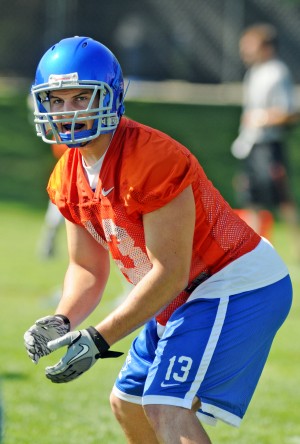 "I don't think anyone comes here just to play on special teams, but it's a great way to get on the field, learn the ropes," Renaud said. "I think I have a lot bigger weight to carry — it's not just running down the field and hitting somebody. I've got to do what I came here for."
Between Tommy Smith, JC. Percy, Blake Renaud and Ben Weaver Boise States Defensive middle will be stout.
Goal of Boise State's Bronco Olympics is to cultivate chemistry
"Fall camp isn't just about football for the Boise State Broncos.
They're racing go-karts, shooting free throws and baking mac and cheese — activities designed to improve team unity, reinforce the need for a competitive spirit and provide a little levity during one of the most grueling months of the year."
Oh to be a Bronco !!
"2012 will go smoothly if: the new signal caller lives up to the hype;the last guy was only the most winning QB in college history and the Broncos can find a new wide receiver to get into the groove with him. The running game should be alright, but this is a reload year, or rebuilding. There's NFLtalent that needs to be replaced at tailback and OT. Not to mention all the starters at defense. But there is a ton of starting experience returning at offensive line."
Well at least one sports blog out side Boise see us as being worthy of a top 20 ranking. "The Boise State Broncos won't die."
To which I reply well duh!
Someone is missing from yesterdays camp photo and guess?
Detroit news media loves to hate.