MUNSON'S GAZETTA: COACH PETE'S SPRING KABUKI DANCE
Those of us who watched the spring scrimmage were given the briefest glimpse of the promise, issues and challenges as the Broncos face 2012. Coach Pete once again demonstrated that he is a reluctant participant in these public displays, probably for a good reason. Everyone there is potentially a spy, there are lots of opportunities for injuries, and I think it is difficult to coach in 11 on 11 scenarios. So he puts on the kabuki, everyone moves in step, and then he can get on with the real work of seeing which Texas Hold 'Em hand he has. Here are my thoughts.
OVERALL: Good scrimmage. Defense looks good, responsive. JC transfer at DE Damarkus (?) has the stuff. Offense did not look creaky, or at least not as creaky as expected. Team looked tight in a good way, scrappy. It looked to be as good a scrimmage, given the format, as any I've seen in recent memory. 17,500 fans showing up added to the intensity. Good show Bronco Nation!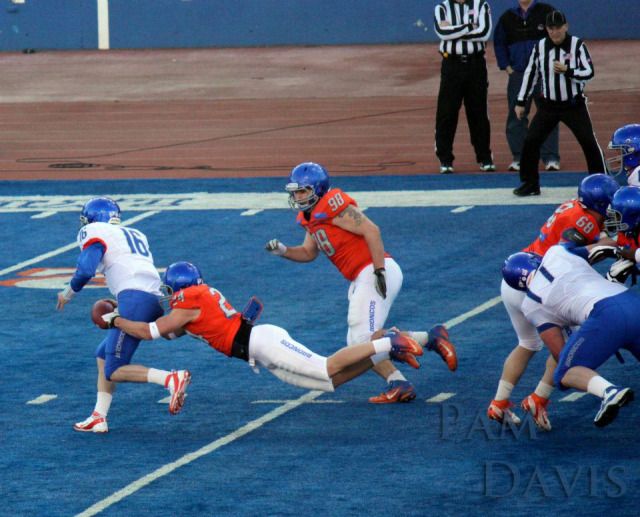 OFFENSE: As Munsack the Magnificent predicted, it looks like South will be the man. You can get different takes on this, but if you think a true frosh that looks to be about 5'7" is going to run the Bronco offense, well, are you interested in leasing the Broadway bridge next fall and charging a toll? Good, I can cut you in for around $10,000-send cashier's check now. Patti had "Happy Feet" most of the time, and yeah he read and threw a nice toss when our CB blew coverage. Bold1 needs to keep his head in the game; he may be our next Titus, but like him he has abundant talent but needs to harness it. Watch out for Troy Ware; he's looking like our next Shoemaker. Nothing to say about running game; we ran the bone with guys who won't be seeing a lot of money time, at least I hope not. Offense overall looked better than it usually does in spring; hope I did not jinx them.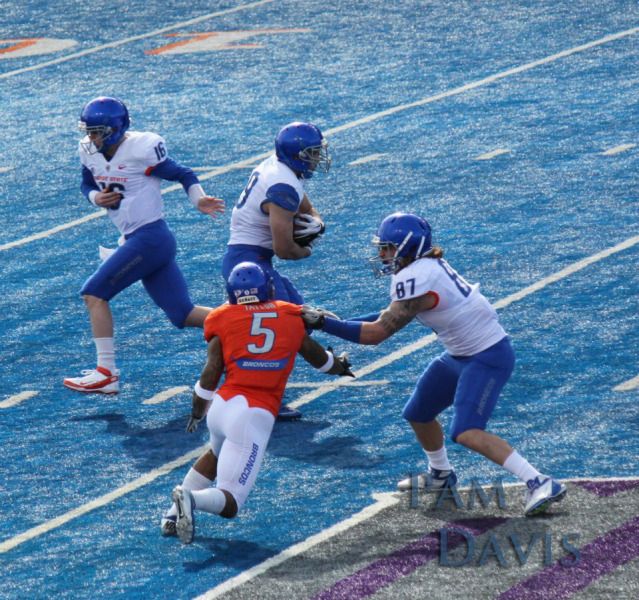 DEFENSE: We may just be able to make it with our interior D-line despite being thin. I never saw Koontz as a true D-tackle; more of a 3rd DE to me. We picked up help at DE, and Horn played well last year. We lose a lot on the D-line no mistake. Secondary looks talented, but young. Have not got much to comment on regarding linebackers as it was just too hard to focus on them plus you need to see all out real competition to get a gauge. Coach Pete didn't show much.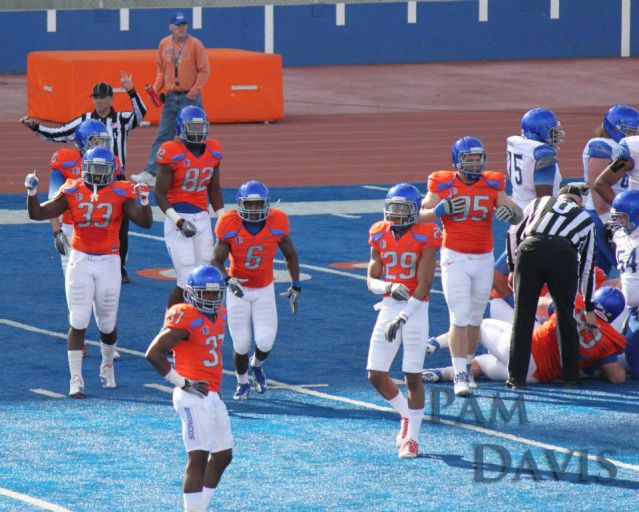 KICKING: Well, after last year's fall scrimmage I wondered which game we'd lose on a kick. If things do not improve, we'll be saying the same this fall. May be more than one. Coach Pete laughed at the mock cheer when we made point after's during the scrimmage, but his comment that maybe we'll go on 4th is ominous. Punts were underwhelming too for the most part.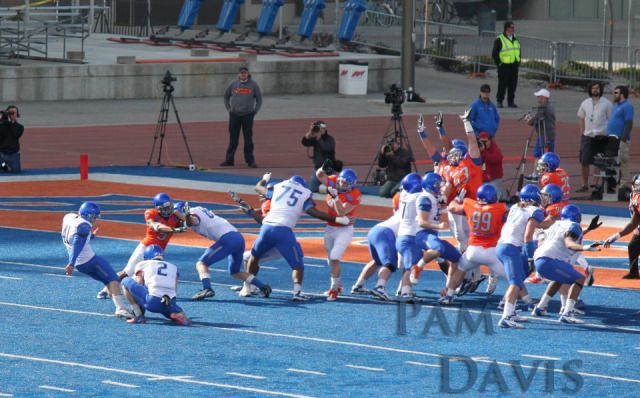 So Coach Pete previewed his spring kabuki dance to make the flowers grow. He did give a lot of young guys a chance to see the blue, and when you have over 17,000 fans there to give them a taste of the atmosphere that's good too. We face a mean ass foe in East Lansing; over 100,000 fans, a very very good defense returning almost everyone, plus a solid offense. We have, for the first time in a long time, an almost entirely brand new team taking the field. I don't recall a similar overhaul in the last decade. So as the long drought of late spring and summer await us, when like the parched soldiers in "Sahara" we savor every drop of water that comes from the Boise State well, we must content ourselves with the knowledge that our team is in the best hands it can possibly be in, and that those hands and eyes have not been idle as 2012 approached.